1,200 square meters of indoor storage, with all equipments capable to satisfy any kind of request. Mulazzani Nautica is a company always ready to monitor and help boaters in all their needs.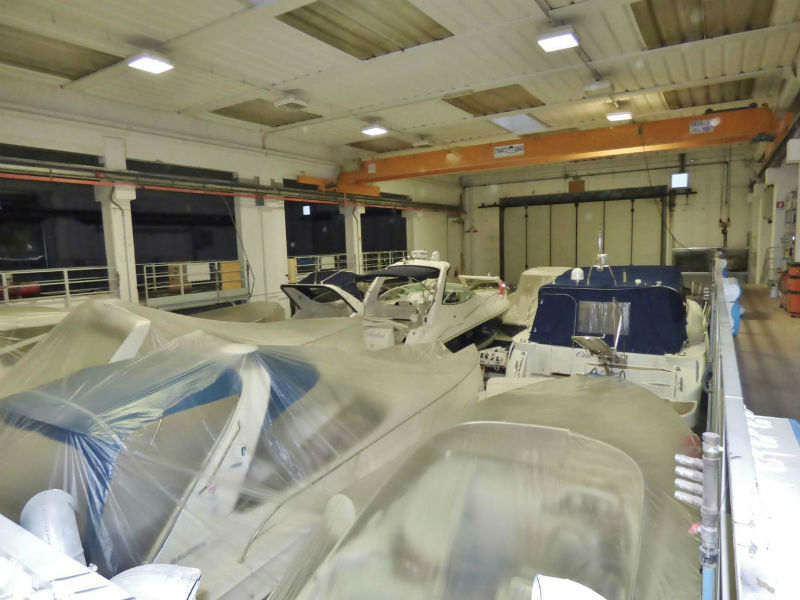 Here below the diagram of all facilities included in our storage service:
---
LOGISTICS- TRANSPORT - ENTRY
MARITIME TRANSFER TO THE TOWAGE POINT (CATTOLICA or PORTOVERDE).
TOWAGE ASSISTANCE AND LOAD ON THE TRUCK.
TRANSPORT WITH ESCORT, IN BEHALF OF YOURSELF TO DEPOSIT.
DISCHARGE FROM TRUCKS AND MOVING TO INDOOR STORAGE.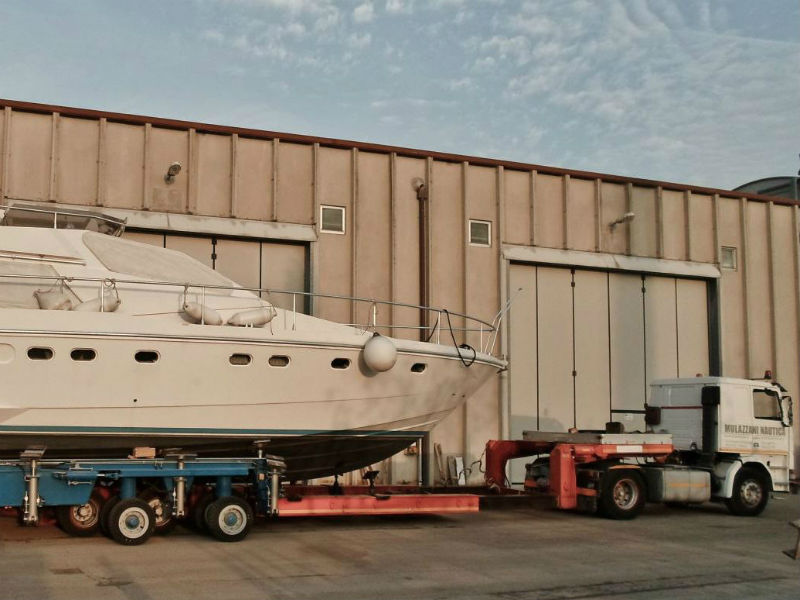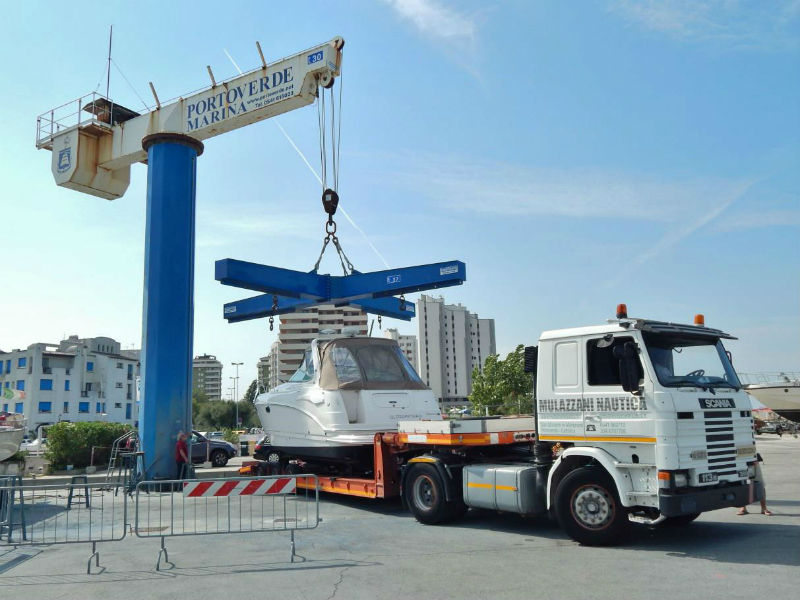 ---
WINTER BREAK
ANTIFREEZE PERFORMANCE CONTROL.
LUBRIFICATION CHECK VALVES
SEA FILTERS CLEANING (ENGINES, GENERATORS, AIR CONDITIONING, DESALINATION)
BUSHES SUPPORTS AXIS, PROPELLER, BOW THRUSTER, FLAPS CHECK. (AXIS LINE)
STERN DRIVES GROUP CHECK, CARDAN HEADPHONES AND OIL BALANCE, PROPELLERS REMOVAL, PROPELLER TREES GREASING.STEERING GEAR OPERATION CHECK, TRIM, FLAPS, BOW THRUSTER. (STERNDRIVE)
ENGINES AND GENERATORS PASSAGE IN FRESHWATER AND VERIFICATION OF ANY OIL AND WATER LOSS. PACKING / WATER SEALS CHECK.
LUBRIFICATION OF NOT PAINTED MECHANICAL AND ELECTRICAL PARTS IN THE MACHINE ROOMS AND IN AFT CABIN (ENGINES, PAWS, STEERING, BILGE PUMP ETC)..
BATTERIES MAINTENANCE.
---
OUTDOOR MAINTENANCE AND FURNITURE
AXES AND PROPELLER CLEANING.
EXTERNAL WASHING.
DRYING.
CUSHIONS CLEANING, TENDER.
BILGES DRYING.
---
ACTIVITY RESTARTING
ENGINES AND GENERATORS VOUCHER
HULL PAINTING.
ZINCS REPLACING.
---
LOGISTICS - TRANSPORT EXIT
MOVING AND LOAD ON TRUCK.
TRANSPORT WITH ESCORT UP TO LAUNCHING POINT.
DISCHARGE FROM TRUCKS AND ASSISTANCE TO LAUNCHING.
MARITIME TRANSFER ON MOORING.